Wangduephodrang
Wangduephodrang is one of the largest dzongkhags (districts) in the country. As the district covers 4,308 sq km and ranges from 800-5800 m in altitude it has extremely varied climatic conditions ranging from Sub-Tropical forests in the south to cool and snowy regions in the north.
One of the most notable sites in the district is Phobjikha Valley. This valley is the habitat of rare and endangered Black-necked Cranes that roost there during their annual migrations. The residents of the valley have garnered much acclaim for their conservation efforts to preserve the habitat of these beautiful birds. Every year the Black-necked Crane Festival is held in Phobjikha in order to protect and spread awareness of the cranes. The Festival includes songs, masked dances and plays by the local school children. This event is one of the most unique and popular festivals in the country.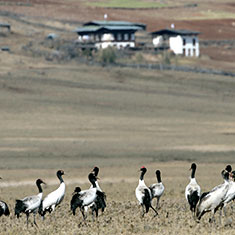 Phobjikha
Phobjikha, at an altitude of 2900 m, falls under the district of Wangdue, Bhutan. Phobjikha valley is a conservation area recognized primarily for its ecological richness and prime winter habitat of the Black-necked Cranes (Grus nigricollis) with approximate of 300 cranes every winter. The area is situated at the north western periphery of the Jigme Singye Wangchuck National Park.
The area falls within the administrative boundaries of two Gewogs of Gangtey and Phobji under Wangduephodrang district.
Phobjikha is a wide alpine wetland valley with a stream meandering through the open grassland and thickets of dwarf bamboo. Farmlands and villages occupy the peripheral slopes where potatoes and turnips are grown. The forests beyond the farms are conifer mostly of which are dominated by blue pines (Pinus wallichiana) and fir (Abies Densa).