Bhutan Instant Travel Client's Testimonials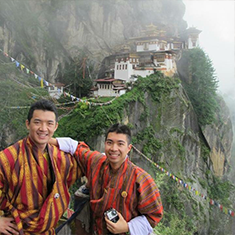 Hubert
We had an amazing and eye-opening time in Bhutan. Kinga made sure our experience was unique and tailored our trip to our own interests. He made our 1 week there go too fast! Will definitely be back one day.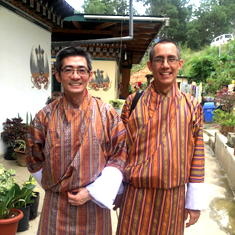 Paul McDermott & Long Nguyen
What great experience travelling with Bhutan Instant Travel! Hopefully words will explain the passion of Kinga and his team in providing a personalised, flexible, safe and professional trip of Bhutan's history, natural beauty, religion and culture.
Before you arrive, Kinga works with you to find out what you would like from your experience while in Bhutan. He creates a personalised itinerary to incorporate your ideas and his passion for his country. Kinga, actually, creates a whole travel package which you (the customer) do not have to worry about anything, but catch the plane to Bhutan.
While in Bhutan, nothing ever seems to be too much for Kinga and the team. They embed you into the Bhutanese culture by showing you their way of life, giving you opportunities to wear national dress and taking to amazing natural and historical places. They are happy to incorporate changes or your desires into the itinerary while delivering the planned activities. This dynamic ability with their knowledge of Bhutan and passion to give you to the best experience is unique.
Kinga always has your safety as a number one priority. There was unseasonable wet weather during our time in Bhutan which caused dangerous road conditions including landsides. Kinga explained the risks and worked with us to create a new safe, alternative itinerary to maximise our time. Our new route took us on a wonderful journey and home stay through the Haa valley.
If you want a memorable, personised, unique, cultural experience of Bhutan, then Bhutan Instant Travel comes highly recommended. Thank you Kinga.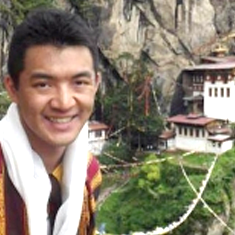 Mr. Bennet
"Few words can describe the thoughtfulness and kindness of the tour guide I had in Bhutan during my 7 days trip there. Kinga looked after me very well, from selecting what types of places to visit for tourism and also making sure the trip was to my expectations and enjoyment. He went out of his way to make sure that I was comfortable and that the trip would be memorable. He balanced the cultural, religious and sightseeing places remarkably well and we still had plenty of free time to exploer the town for shopping and visits. And I can say that Bhutan is still one of my favourite places to visit in the Himalayas because of his personable and warm character and kindness. It is important to have a good tour guide and Kinga really did a wonderful job during my short visit to Bhutan. Thanks for being such a good friend and guide!".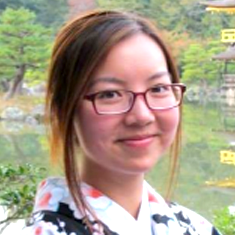 Rena
In May 2016 I organised a tour to Bhutan through Bhutan Instant Travel for 12 days. I travelled in a group of 4, which was a comfortable fit in their 8 seater car, leaving plenty of space for luggage and leg space. Kinga, our tour guide was professional and informative, and was able to accommodate our requests, even though some of our group was somewhat demanding! The itinerary was planned in advance but there was plenty of opportunity to tweak it while we were there, depending on what the group felt like doing. He and our safe and wonderful driver were always flexible. We were able to immerse ourselves in the culture and practices of the country. I would recommend Bhutan Instant Travel if you were thinking of taking a trip to this very unique country.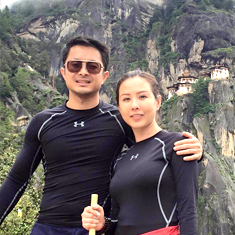 Tri Tong and Hoai Nguyen
Kinga and his team did a fantastic job showing us Bhutan's culture, landscape, and religious history.
Kinga showed us how people interacted with the government, how people dress and act in certain social environments, and how people lived in their everyday lives. He took us to see many beautiful nature spots that recording digital media wouldn't do it justice. You just had to take it in and mentally remember how your senses lit up in that moment. Lastly, he was a great story teller which made it easy to follow and recall important names and locations within Bhutan's history.
I must note that I hate going on tours because tour guides usually stick to their itinerary. If you miss it in the morning or miss the first day, you would be left behind. In my case, I missed my flight to Bhutan, so my girlfriend and I lost a whole day with our group. Thankfully, Kinga was such a flexible tour guide and he rescheduled the tour so that we didn't miss much of the beginning. On top of that, he was accommodating to our group's interest; he allowed us to wake up later and take off anything on the list that didn't excite us. He even allowed us to get into the kitchen to make dishes that we were craving after 5 days without Vietnamese food (our group's soul food is Vietnamese). It takes a great tour guide to quickly understand the needs and interests of his group to provide an amazing and memorable experience.
Thank you, Kinga! Please continue showing others the same warmth, professionalism, and dedication that you had given us. I know they will enjoy your tour as much as we did.