Punakha
It served as the capital of the country from 1637 to 1907 and the first national assembly was hosted here in 1953. It is the second oldest and second largest dzong in Bhutan and one of the most majestic structures in the country.
Punakha is a warm valley drained by the famous Phochu and Mochu (male and female rivers) which come together beyond an island that is the gorgeous location for perhaps the most gorgeous dzongs in Bhutan. Across a stunning pass from Thimphu, the valley is lush with paddy and tropical fruits and vegetation.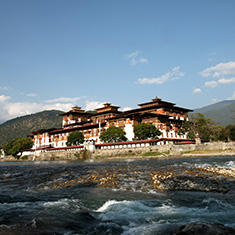 Punakha Dzong
According to a local legend, the sage Padmasambhava prophesized that "a person named Namgyal will arrive at a hill that looks like an elephant". Ngawang Namgyal, 1st Zhabdrung Rinpoche, found the peak of the hill, which appeared in the shape of trunk of an elephant as prophesized, and built the dzong in 1637-38.
Built strategically at the junction of Pho Chhu and Mo Chhu rivers in 1637 by Shabdrung Ngawang Namgyal to serve as the religious and administrative center of the region, Punakha Dzong has played an important role in Bhutan's history. Damaged by four catastrophic fires and an earthquake, the Dzong has been fully restored at present.
In addition to its structural beauty, Punakha Dzong is notable for containing the preserved remains of Zhabdrung Ngawang Namgyal, the unifer of Bhutan as well as a sacred relic known as the Ranjung Karsapani. This relic is a self-created image of Avalokiteswara that miraculously emerged from the vertebrae of Tsangpa Gyarey the founder of the Drukpa School when he was cremated.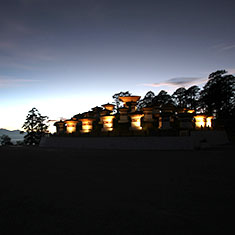 Dochula Pass
The most picturesque among the high mountain passes of Bhutan is the one between the districts of Thimphu and Punakha. Her Majesty Queen Mother Dorji Wangmo Wangchuck commissioned the construction of 108 chortens at the location- all passes in Bhutan are blessed with stupas to protect the traveller. The Dochula Chortens are now an iconic feature of the location. A temple nearby commemorates Bhutan's successful military operation against border insurgents in 2003- led by His Majesty the Fourth King himself. The story of the operation is as unique and special as anything else expected from this amazing country- a story of infinite bravery and compassion, and how a country waged an unwilling battle with enemies it did not wish to harm.
The pass commands sweeping views of the highest of the Himalayan peaks- a photographer's dream come true on clear days.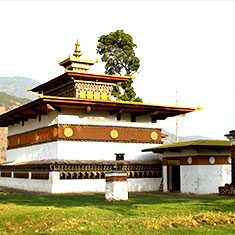 Chimi Lhakhang
Chimi Lhakhang, at about 15 minutes drive away from Punakha, is a monastery dedicated to the famous saint Drukpa Kuenley, well known as the Divine Madman. The temple has a gigantic wooden phallus, which is the means to deliver blessing to childless women. The lhakhang has unique murals and statues dedicated to various Buddhist deities, and recounting various stories of the lama. It is located picturesquely between rippling fields of paddy.